Hasegawa Cosmo Sport "1968 Marathon de la Route"
released in 1995
rereleased in May 2016
This is a modified version of Hasegawa's very nice street version of the Cosmo L10B (110S) kerbside kit (kit HC-02).
The Hasegawa designers did their homework well, since this kit contains not just a new sheet of decals and some additional headlights, but also bucket seats, a roll-over hoop, modified front suspension arms and larger brake discs.
Decals are included for doing either of the two cars entered in this 84hr race at the Nürburgring in August of 1968. Car nr.19, driven by Belgian drivers Dernier, Deprez and Ackermans, finished the race in fourth place, whilst car nr.18, driven by Japanese drivers Koga, Katayama and Katakura, retired from fifth place with a broken rear axle after 82 hours of racing (due to mechanical failure, not driver error).
Both cars were painted in cream-like Japanese Racing White (similar to Tamiya TS-7 Racing White) rather than the Swan White color found on the street version.
As with the street version, a beautiful set of self-adhesive chrome-like badges is included to add the finishing touch to this kit.


Kit Nr.CH-50, Collectors Hi-Grade Series Mazda Cosmo Sport "1968 Marathon de la Route Super Detail"
released in September 2021
This is a limited edition Hi-Grade series version of the regular Cosmo Sport Marathon de la Route kit.
The kit itself remained unchanged, but a large number of cast metal and etched metal parts were added to fill up the engine bay.
Some of the metal parts are the same as for the Hi-Grade version of the street Cosmo Sports kit, new cast metal parts are included to represent intake manifold, carburetor and air cleaner.

As with the street version, the body is still kerbside so the hood has to be carefully separated from the body.
Among the extra parts is a self-adhesive piece of plastic foil with all the raised details for the inside of the hood.
Apart from engine bay details, the big sheet of etched metal parts also contains a set of windshield wipers.
Body is molded in white, interior and chassis are molded in black, K and L part frames are brightly plated.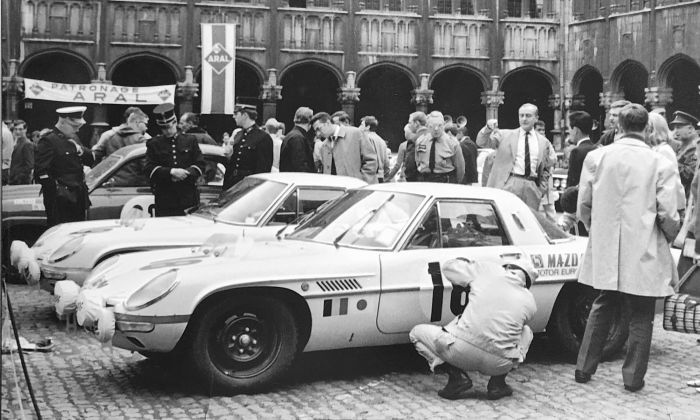 This image shows both cars being prepared for the 1968 Marathon de la Route race.

back to Erix7's RX-7 kit info...
---