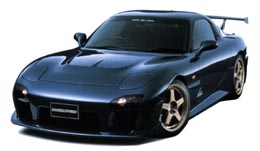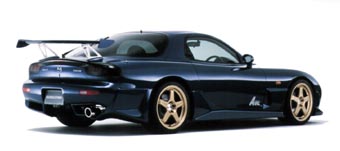 AERO KIT TYPE GT-CONCEPT FOR THE NEW RX-7
The Type GT-C. is a functional part that combines JGTC-style (All Japan GT Championship) forming with the aerodynamic expertise that comes from years of experience in racing.
The Front Nose leaves intact the large combi-lamps that are the hallmark of the new RX-7, and keeps the inner air ducts with their improved cooling performance as well, but it also achieves a dramatic improvement in CD and CL values in high-speed driving. We've also expanded the air intake for the radiator and brake cooling systems, and have put air outlets on the side to further boost cooling performance.
The Rear Wing for the kit is of a two-arm high-mount type. The wing is shaped for three levels of angle adjustment to minimize air resistance and lift at high speeds, and the plates on the left and right edges of the wing regulate the air flowing over the back.
The Rear Skirt Set also provides excellent air regulation performance by preventing air from being pulled upwards as it flows along the underbody and is expelled from the rear. The result is a noticeable improvement in handling stability at high speed.
The Type GT-C. can be used in conjunction with the Aero Bonnet (Aero Kit Type 15th) and the Side Skirt Set (Aero Kit Type 15th), already on the market, to achieve an integrated and aerodynamically powerful exterior.
Mazdaspeed offers a wide variety of exterior, interior, suspension, drive, control, and engine parts for new RX-7 in addition to the aero kits described here. These parts and kits can be combined to create a range of tunings for the car.

[ Specifications & Price ]
Part Number
Description
Specification
Model
Code
Retail
Price
(JPY)
9CD7 50 910
Front Nose (Type GT-C.)
FRP, unpainted
New RX-7(FD3S)
98/12-
G
120,000
9CD7 50 920
Rear Wing (Type GT-C.)
FRP, unpainted
(aluminum mounts)
All RX-7(FD3S)
110,000
9CD7 72 900
Rear Skirt Set (Type GT-C.)
FRP, unpainted
78,000
9CD6 52 310
Aero Bonnet (Type 15th)
GPPG, unpainted
188,000
9CD6 70 900
Side Skirt Set (Type 15th)
FRP, unpainted
92,000