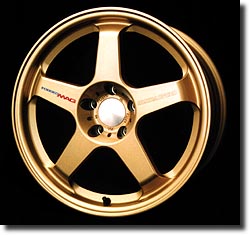 FORGED MAGNESIUM WHEEL "MS-01 MAG"
The MS-01MAG is a forged magnesium wheel developed jointly by Mazdaspeed and Rays Co., Ltd., a top wheel manufacturer with whom we have worked on many racing cars. Compared to aluminum, magnesium offers significantly better strength and durability for the same weight, and forging produces an ideally even, high-density material. Difficult processing has so far limited magnesium to only a handful of automotive products, but we selected it for the MS-01MAG in order to simultaneously achieve substantial weight savings (approximately 7.5 kilograms per wheel) and significant reliability gains. The result is a large reduction in the unsprung weight of the car. Like the other members of the MS-01 series, the MS-01MAG uses a five-spoke design for better brake cooling effect, and its gold coloring gives the RX-7 a taut, powerful body line from the ground up.
MS-01 is the generic name for street-ready five-spoke wheels that follow the same basic design as the magnesium wheels that were fabricated exclusively for the Mazda 787B prototype racing car in the Group C. The MS-01MAG is closer to the original Mazda 787B wheels than any other member of the series, and represents the pinnacle of road-going wheels for this model.
The MS-01MAG is designed exclusively for the flagship Mazda RX-7 (FD3S) sports car and comes only in an 18-inch version.

[ Specifications & Price ]
Part Number
Model
Color
Size
(recommended tire size)
Hole
PCD
Code
Retail
Price
(JPY)
9MS1 M8 8540G
RX-7(FD3S) Fr
Gold
18x8.5J+40 (235/40ZR18)
5
114.3
A
130,000/ea
9MS1 M8 9538G
RX-7(FD3S) Rr
18x9.5J+38 (265/40ZR18)
135,000/ea