Dominic's RX-7 FD3S
The actual RX-7 FD3S used in the movie 'The Fast and The Furious' was sold on eBay in July 2001 (item #1443331842).
For reference I copied the following pictures and details from the auction page.
The auction page did refer to the website www.jdmconnection.com but that site went offline long ago.
Since I can not find these details anywhere on the web anymore, I've decided to put them on this page.

Please note that I made a straight copy of the data on the auction page, including its layout, so any errors are not mine
(actually one obvious error is in the rear wheel size that should read 18x9.5 instead of 18x19.5; and of course "RE Aminiya" should be "RE Amemiya").
Vehicle type
Mazda RX-7
Year
1993
Vehicle Mileage
85,000 miles
Engine Mileage
4,000 miles
Exterior color
Formula Racing Red
Modifications (many more unlisted...)
Body
Full CII Veilside body kit
RE Aminiya headlight conversion
Veilside Carbon fiber GT wing
.
Wheels
Veilside Andrew eF's wheels 18x8.5 Front
Veilside Andrew eF's wheels 18x19.5 Rear
Fully built 13B Rotary Engine
(Motor capable of supporting up to
500 HP)
3mil Apex seals
Blitz blow off
Huge Street port
Blitz twin filters
Knight Sports radiator
Cosmo fuel pump
Blitz front mount intercooler
Tuned ECU
Interior
Apex EL gauges
Apex EL Tach
Apex AVC-R Boost controller
Sparco racing harnesses
Veilside steering wheel
Veilside shift knob
It looks like the 'Formula Racing Red' paint used was Honda 'Formula Red' R-77 (DupliColor/Motip equivalent 5-0330), this color was available for the Honda (and Acura) NSX.

Greg Lieberman, who was the technical advisor for the movie 'The Fast and The Furious' and who was in charge of selecting the tuner cars used in the movie has a website fastandfuriousfacts.com with more info on these cars.
More pictures and info on Dom's RX-7 can be found on Gregs site.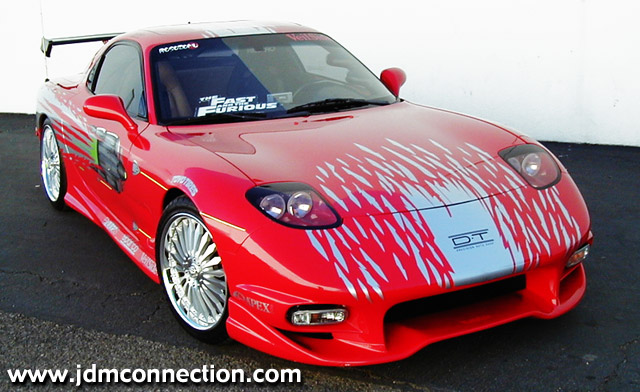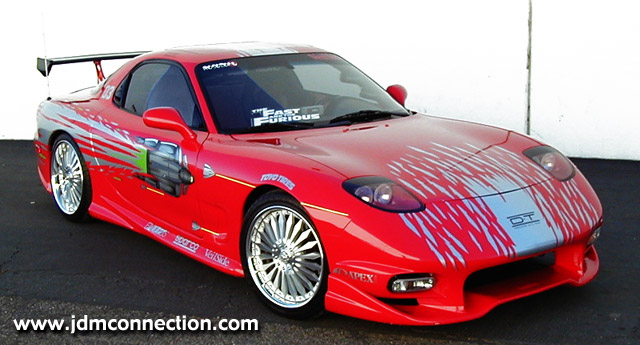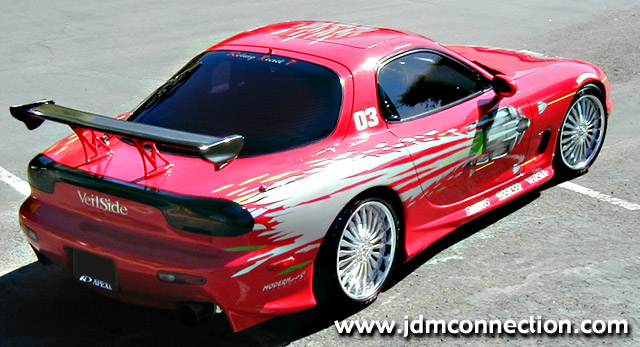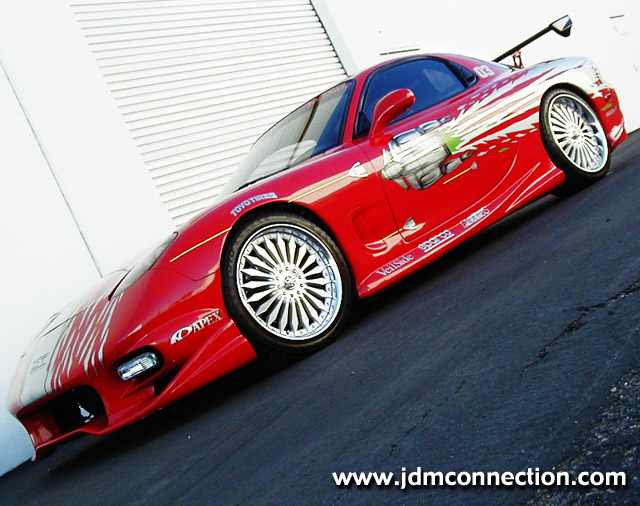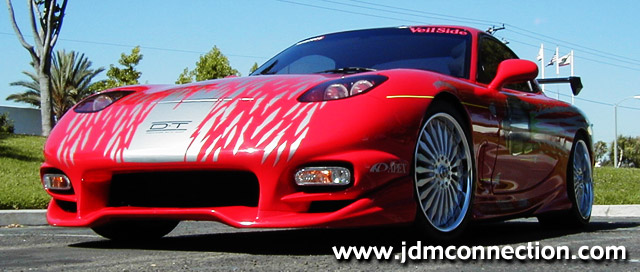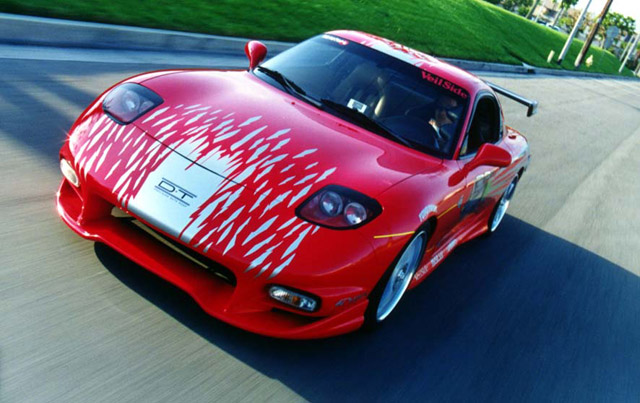 ---